I started the company to optimize revenue for service providers. I first learned abo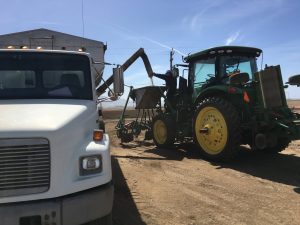 ut the thin margins in agriculture from a farmer – Justin Durdan, who I met at a conference. He complained about expensive fleet (equipment) and how equipment manufacturers are raising prices. Using my management consultant skills, I discovered that equipment (fleet) is the second-largest expense item on a farmer or any service provider's balance sheet. Yet, currently, there was no way to identify each fleet's productive and unproductive time (equipment) going in to produce revenue by customer and job type. I knew that time is money. The fact is that no one is keeping track of productive and unproductive times in the field services industry. In that case, I thought a service provider might be spending more time than needed to complete a job, which takes away the time from other jobs, resulting in completing fewer jobs, which results in losing revenue. To recover the lost revenue, service providers acquire more operators and equipment (fleet), a waste capacity. I started testing my hypotheses from the agriculture industry. I found over 90,000 acres that the estimated times and costs are 40 to 60 percent inaccurate from the actual times and costs, resulting in a 15 to 20 percent loss of revenue.
All the evidence I gathered concluded that a remarkable opportunity exists to optimize revenue in agriculture and other adjacent markets belonging to the field services industry. That's how I started this company. Every other week, we discover new findings that drive our automation solution. For example, we classified GPS points to map unproductive times to activities, solving the issue that if a service provider can't recall what actions cause to waste time and cost, he can't decide what he needs to change to minimize waste. With FieldTrend solution, a service provider can now determine how to change the activity, if possible, to reduce the waste time, resulting in more profitability per customer. We recently discovered that inefficient scheduling of work orders drove the fleet to the same locations many times – sometimes the same day, other times the next day – for different jobs. FieldTrend is currently automating the scheduling and resource allocation optimization to reduce the unnecessary commute time, which helps the service provider gain 15 to 20 days back to work on more jobs to produce more revenue.